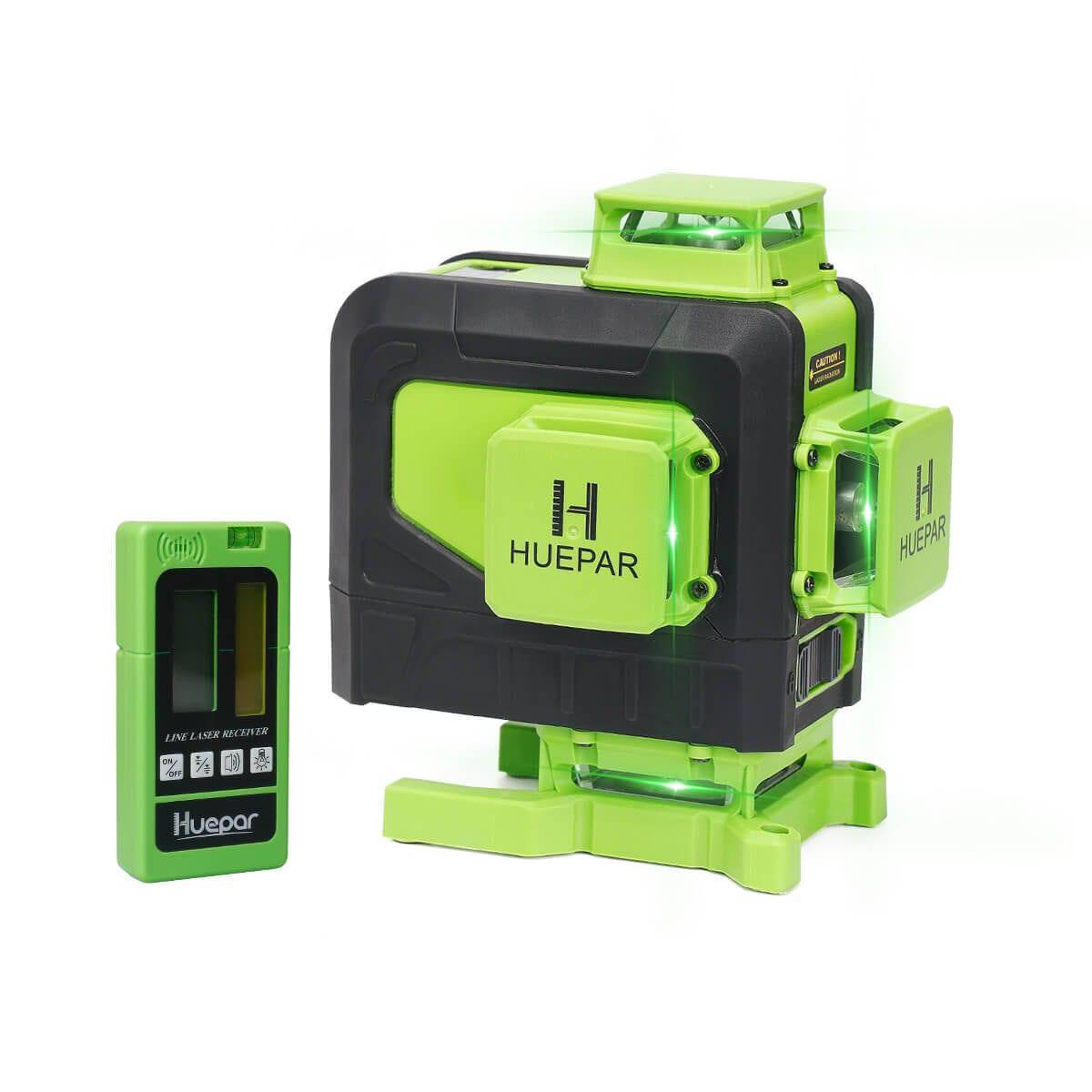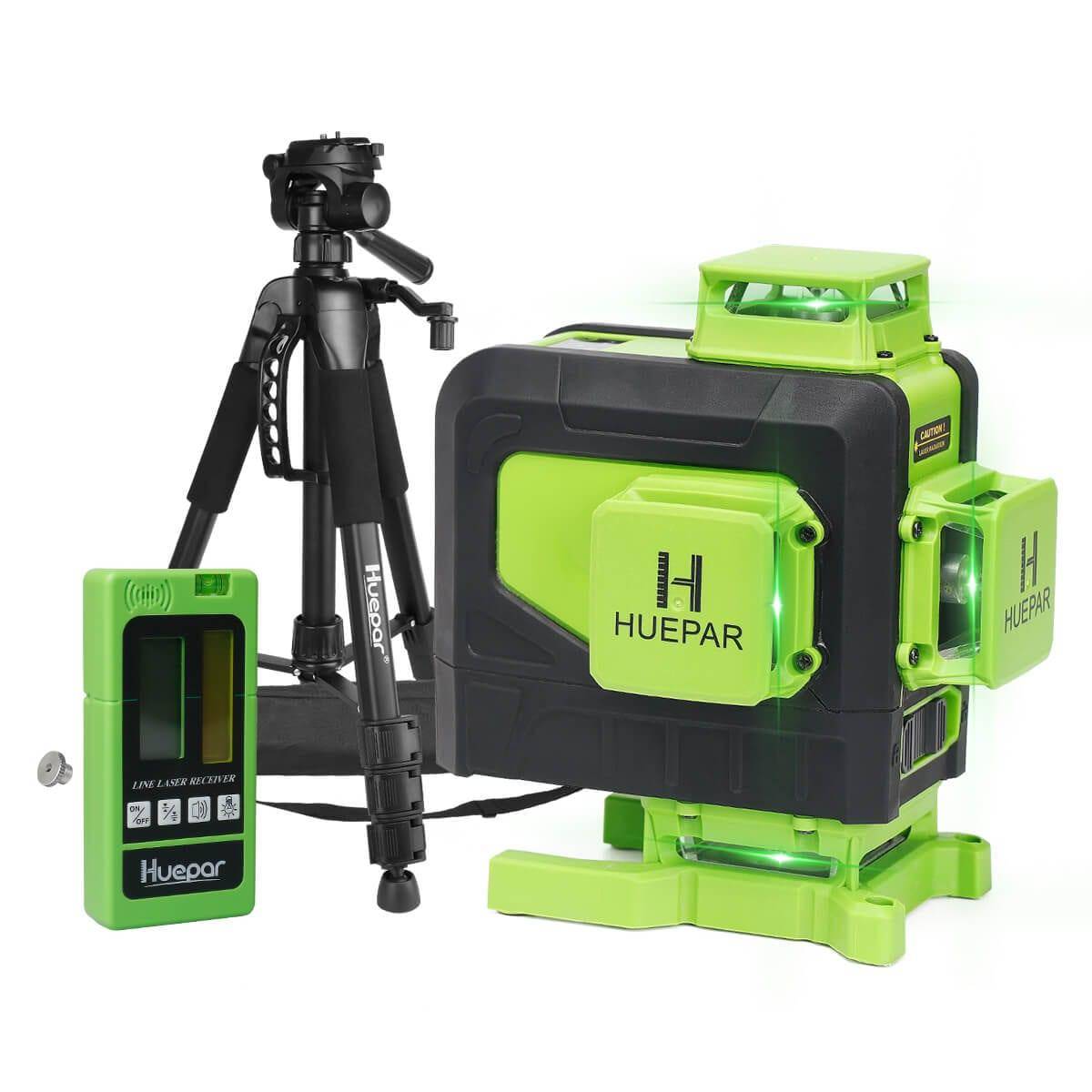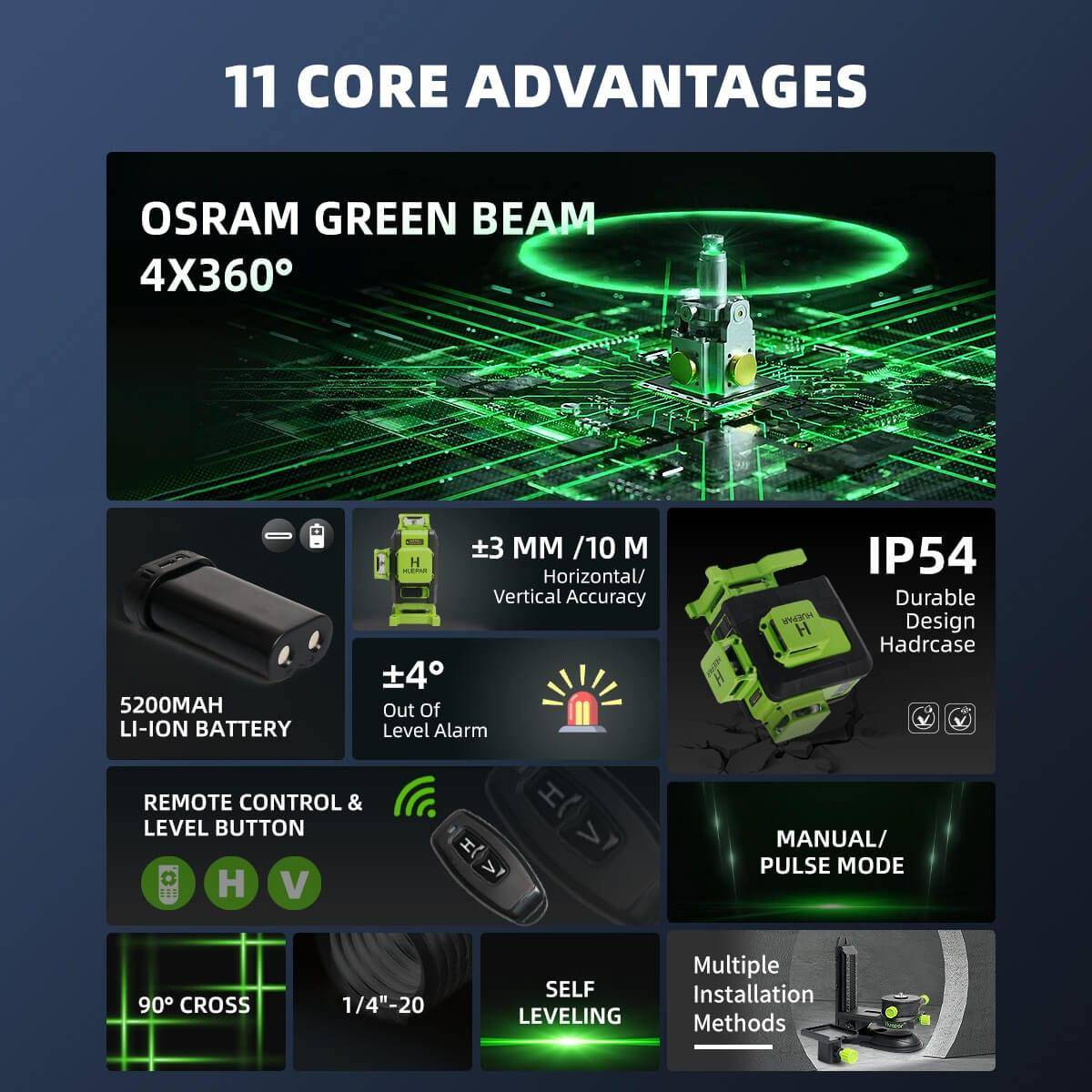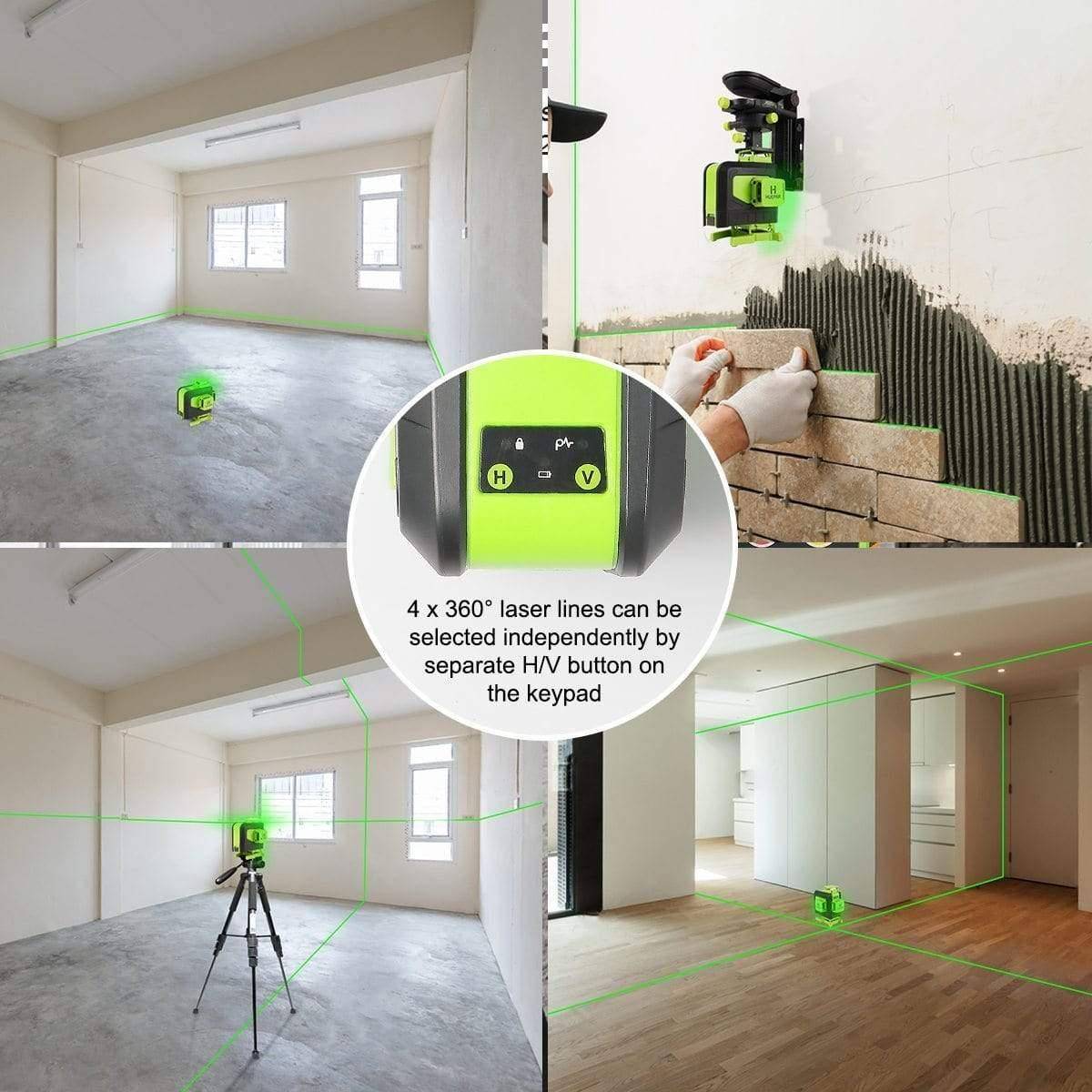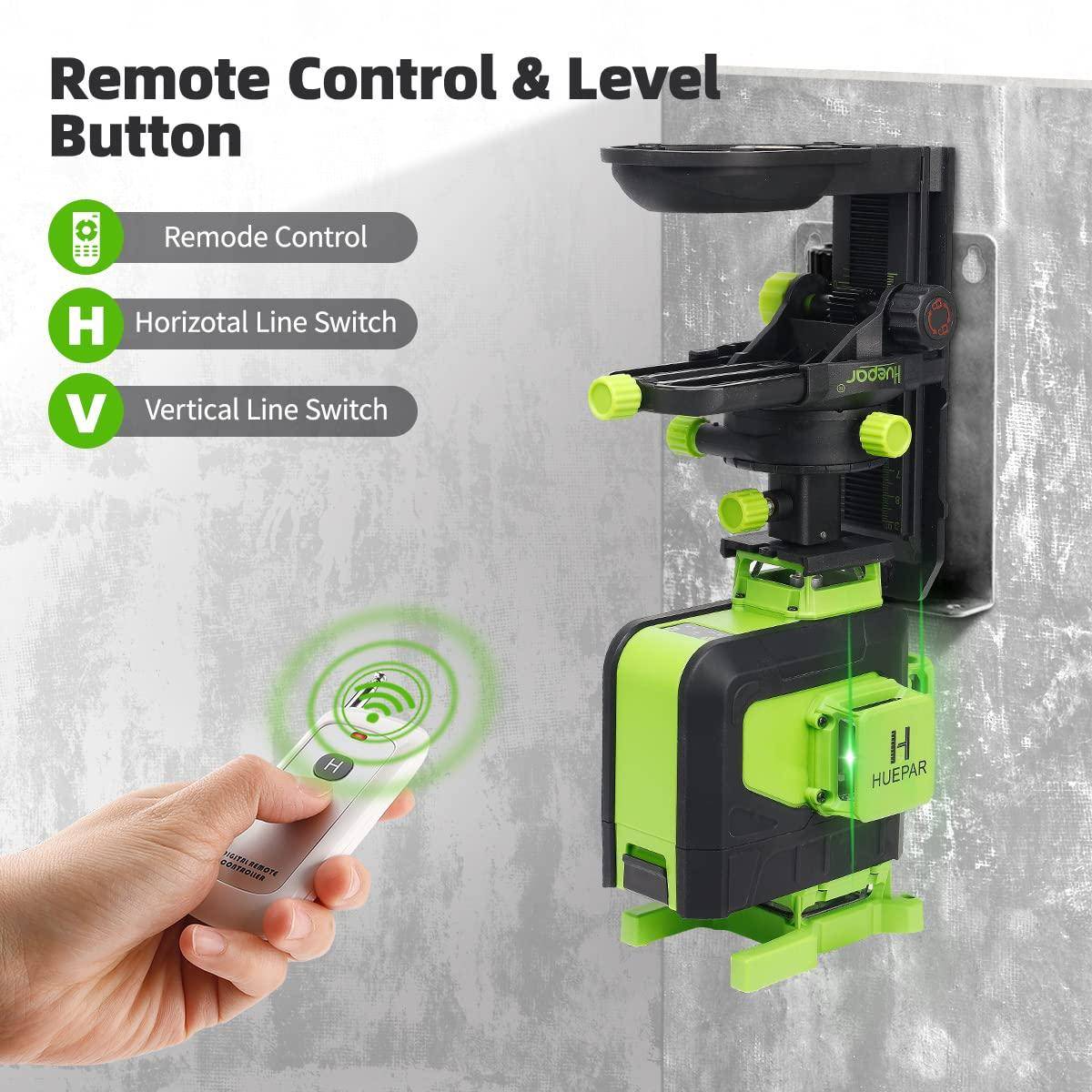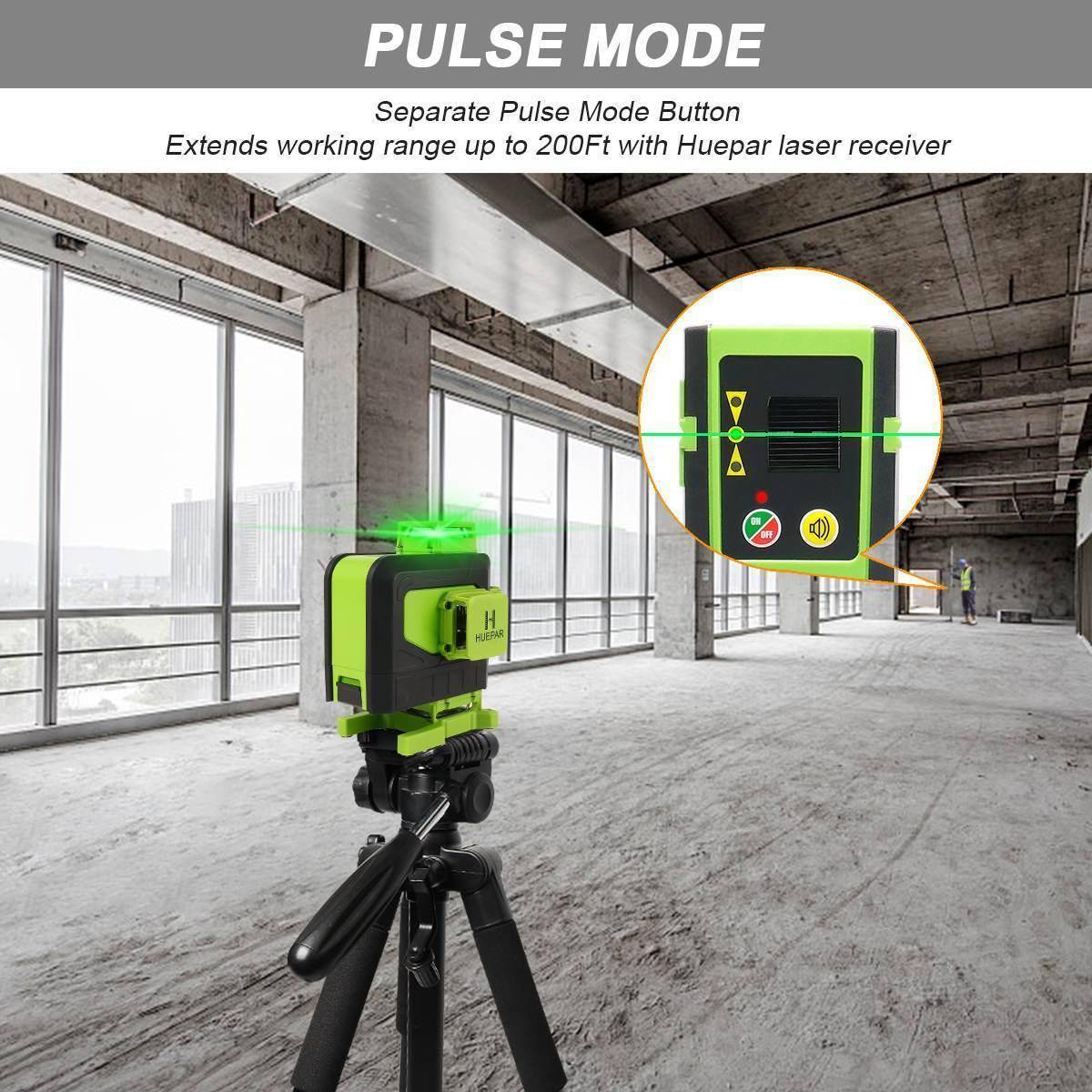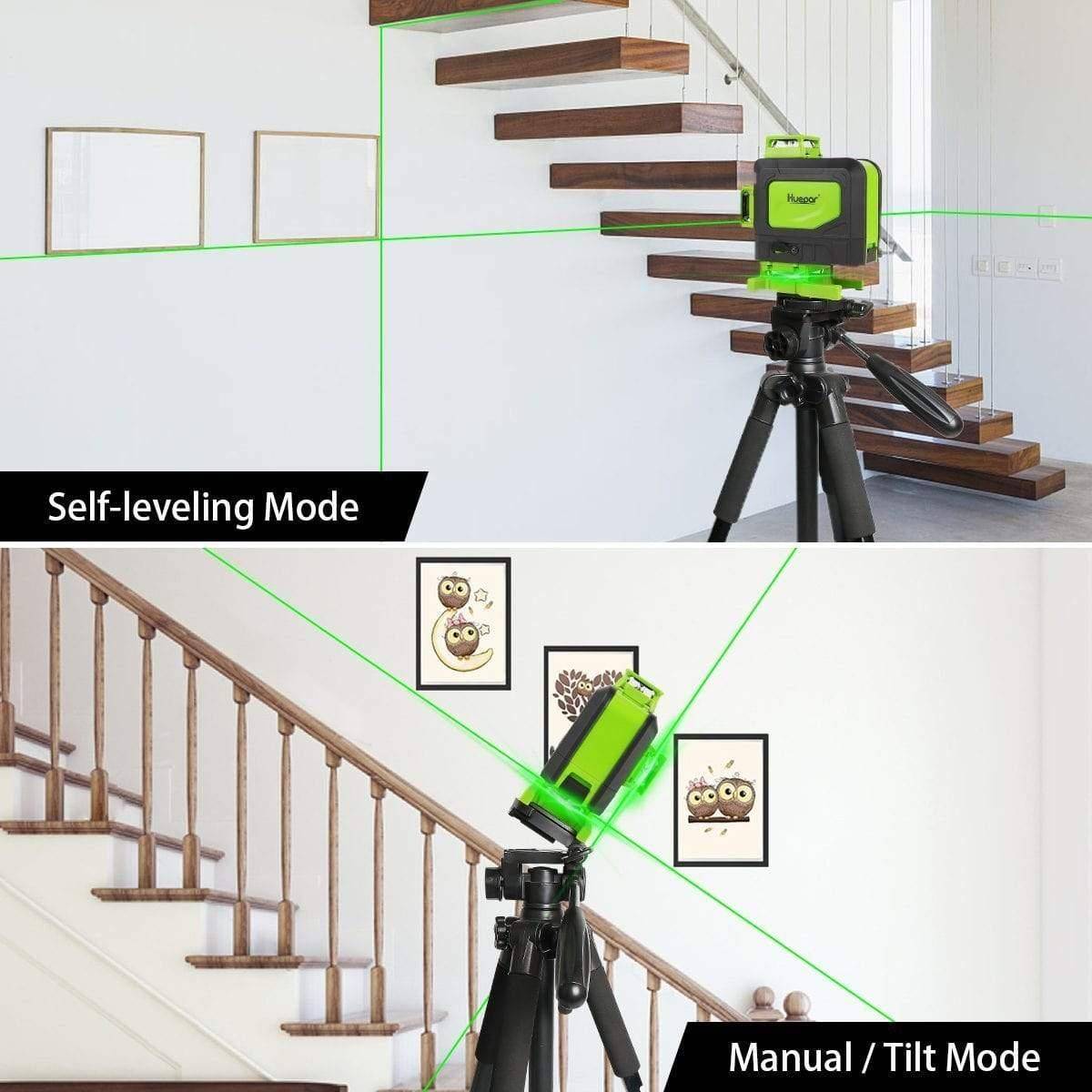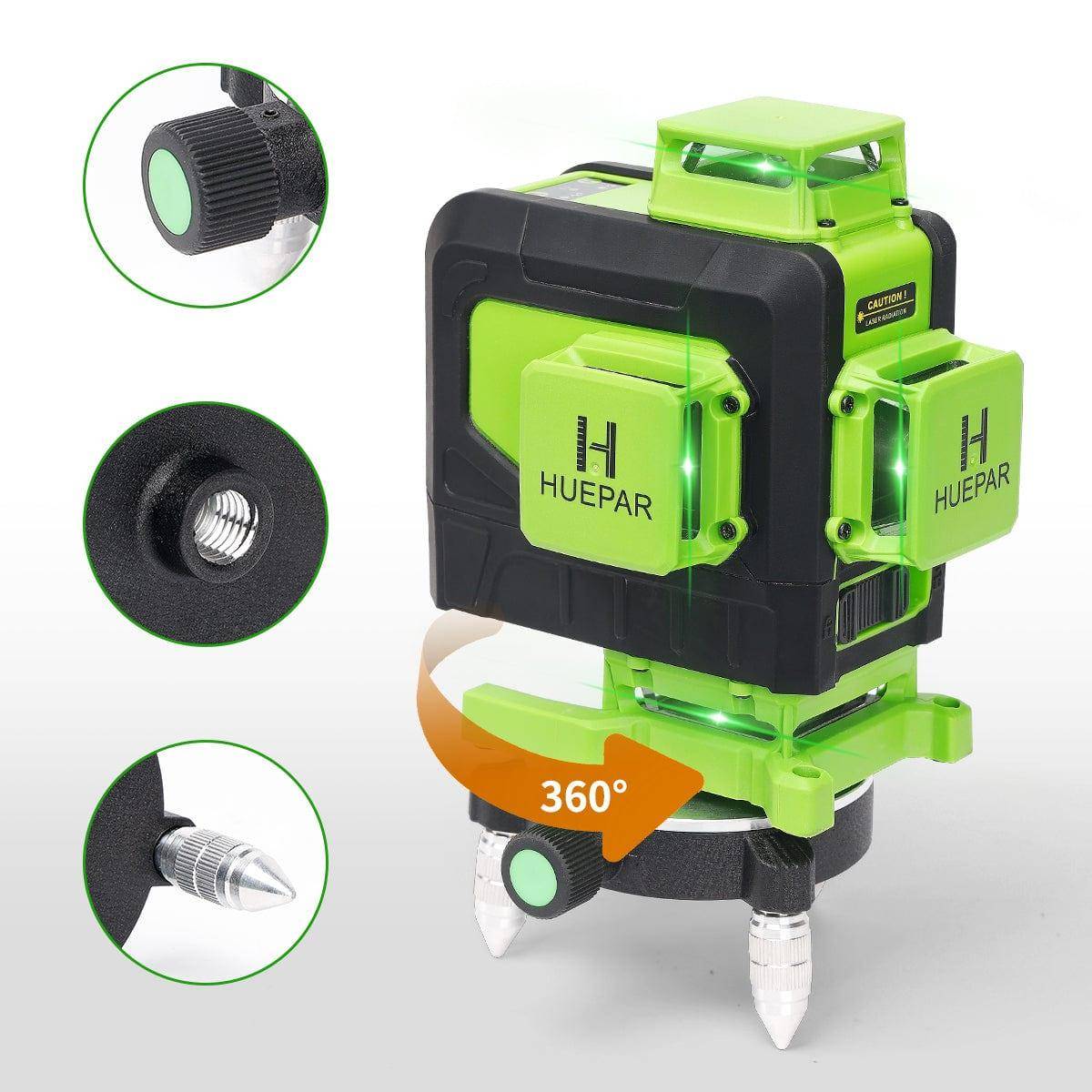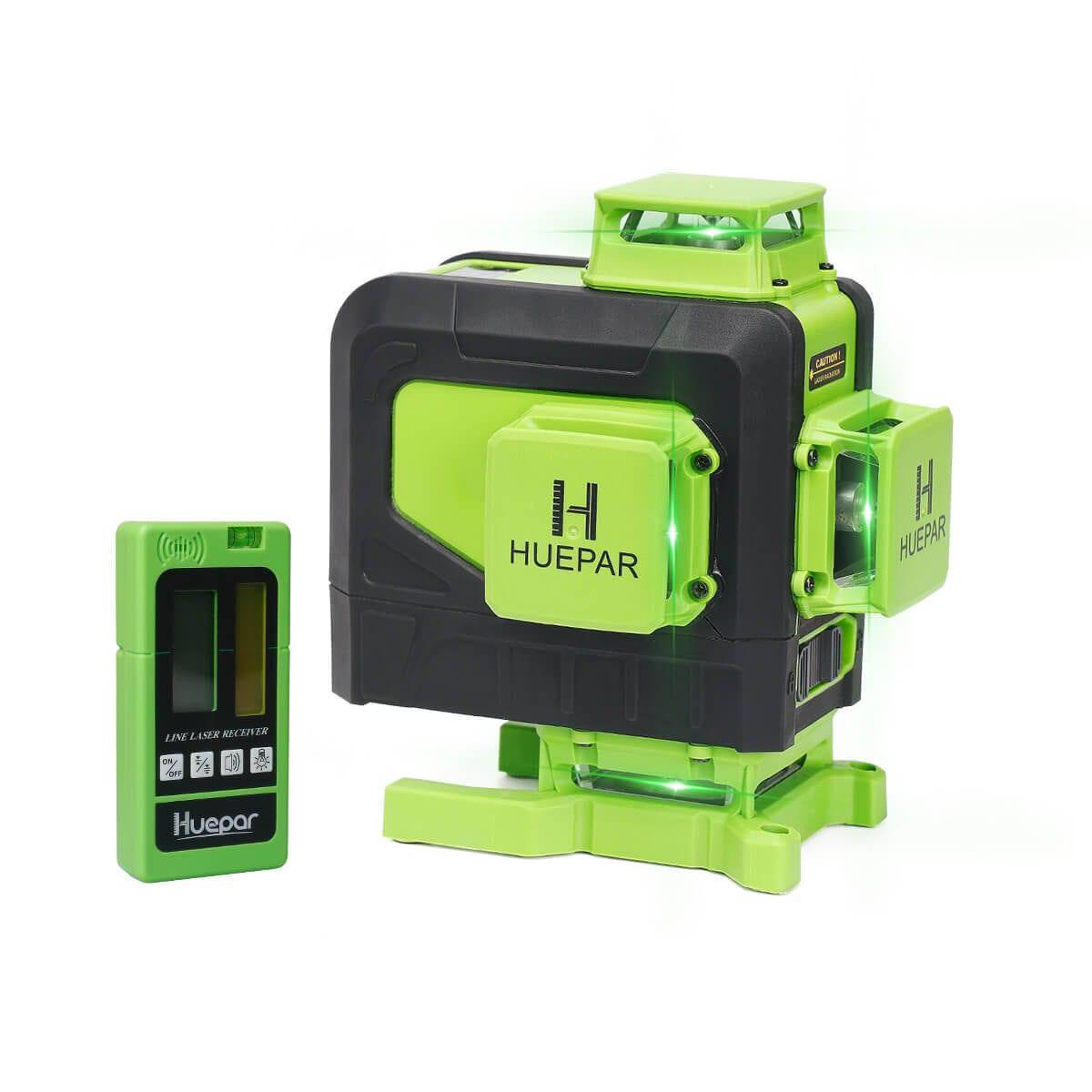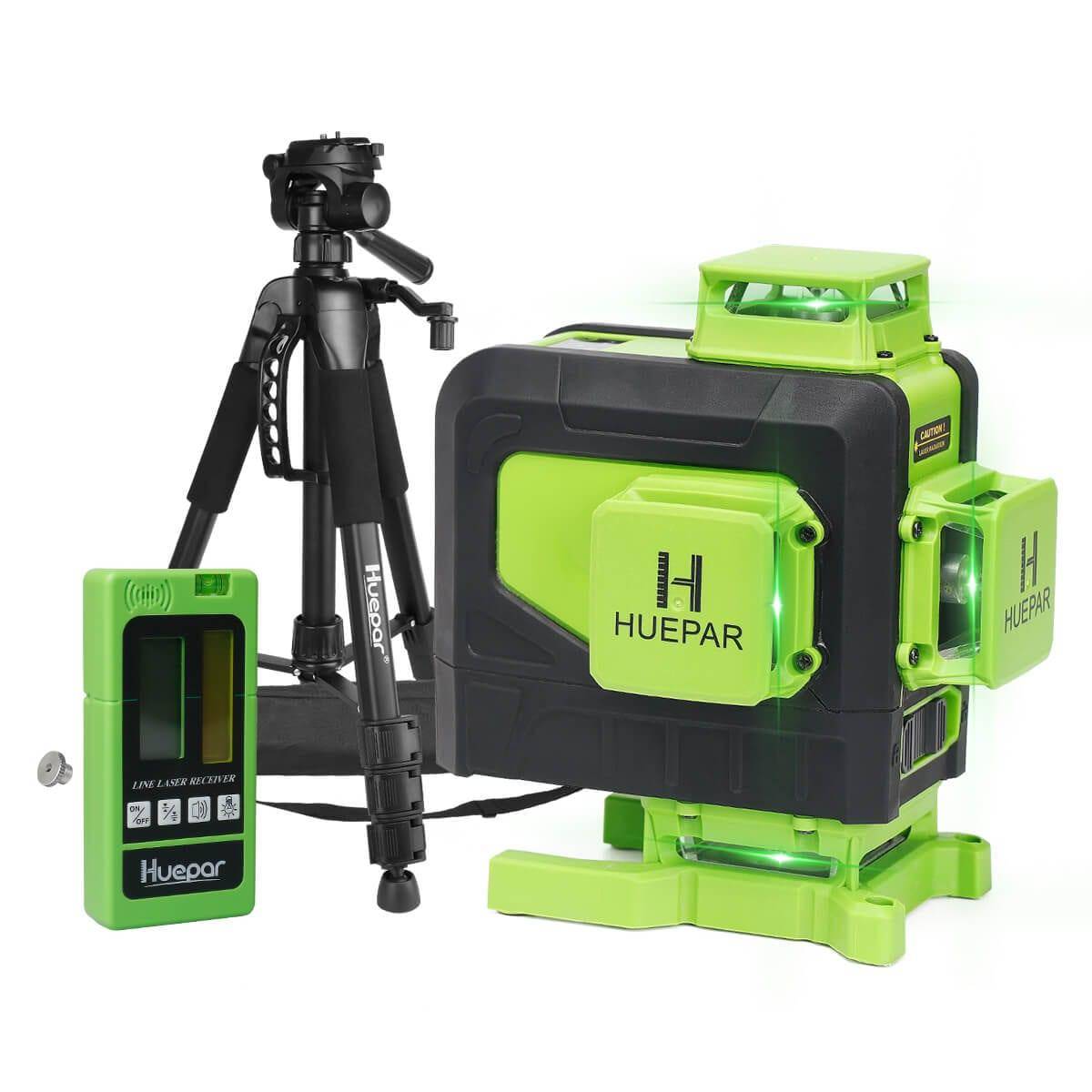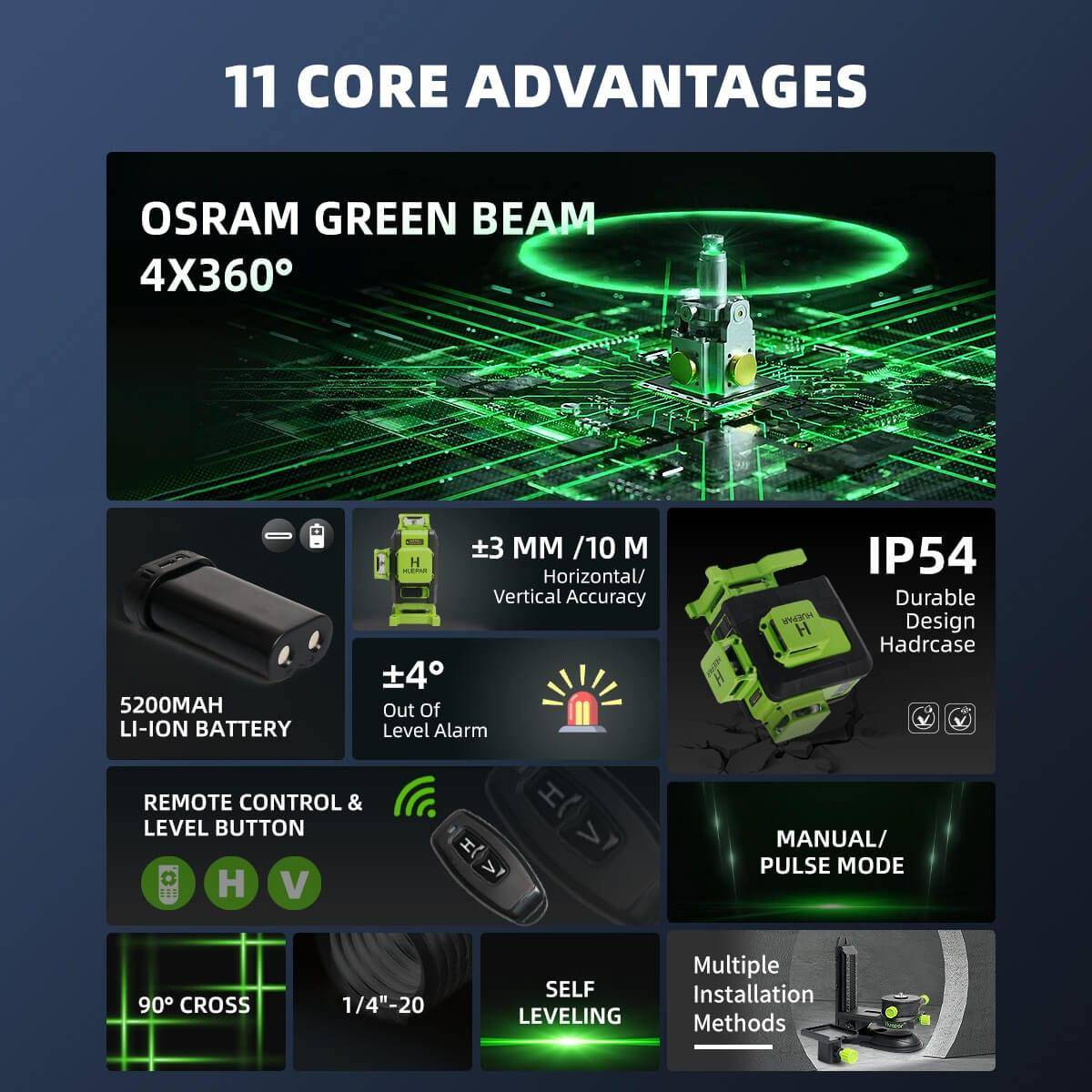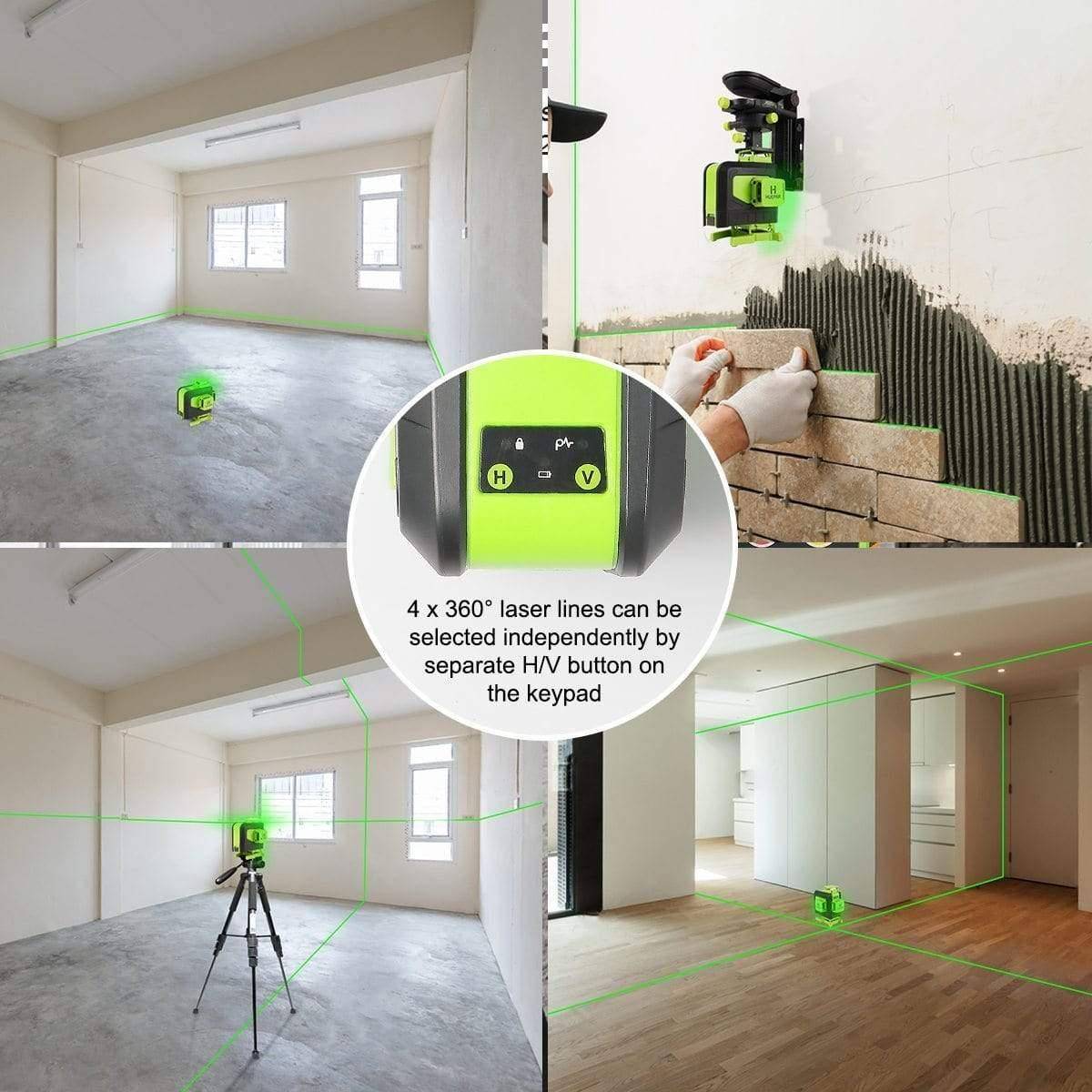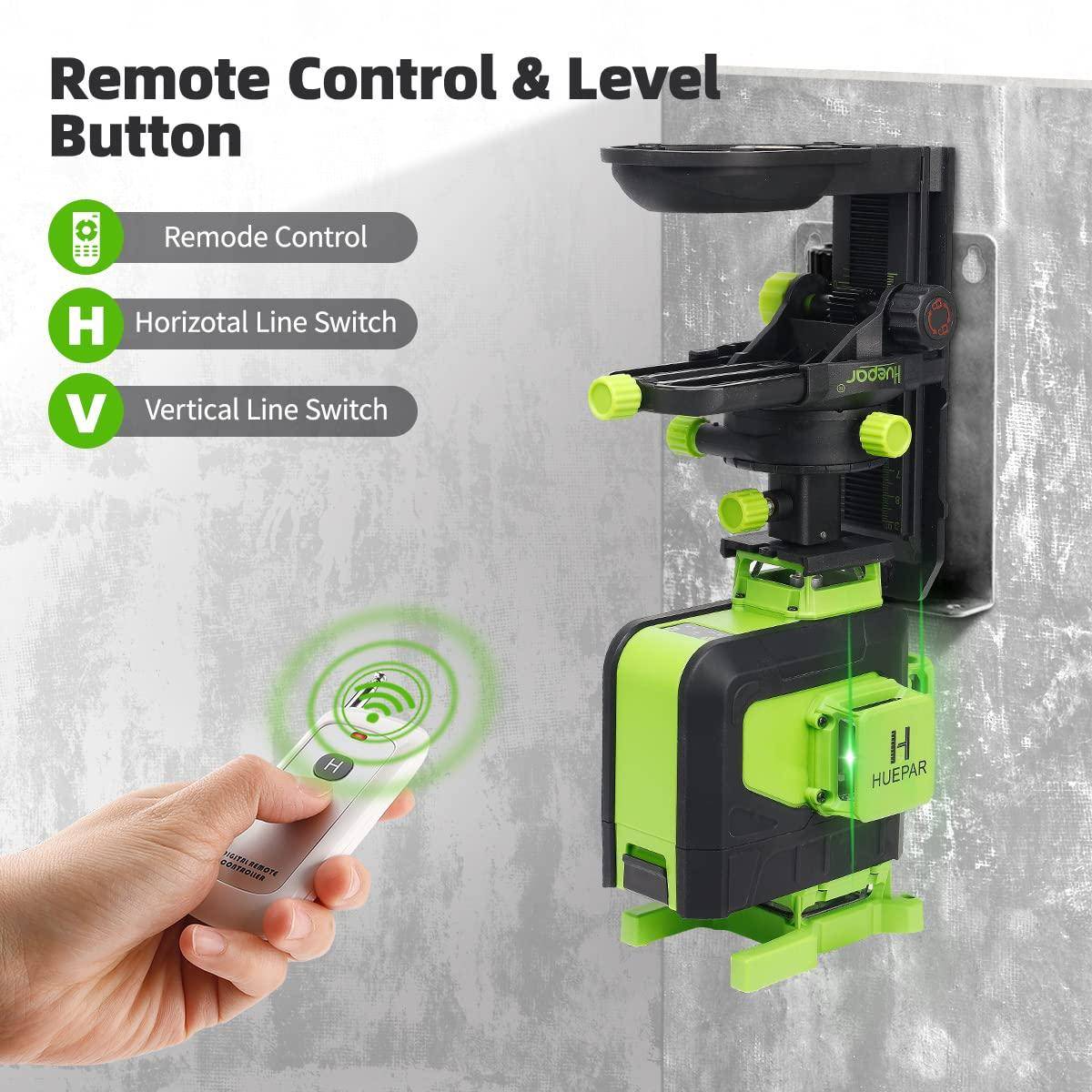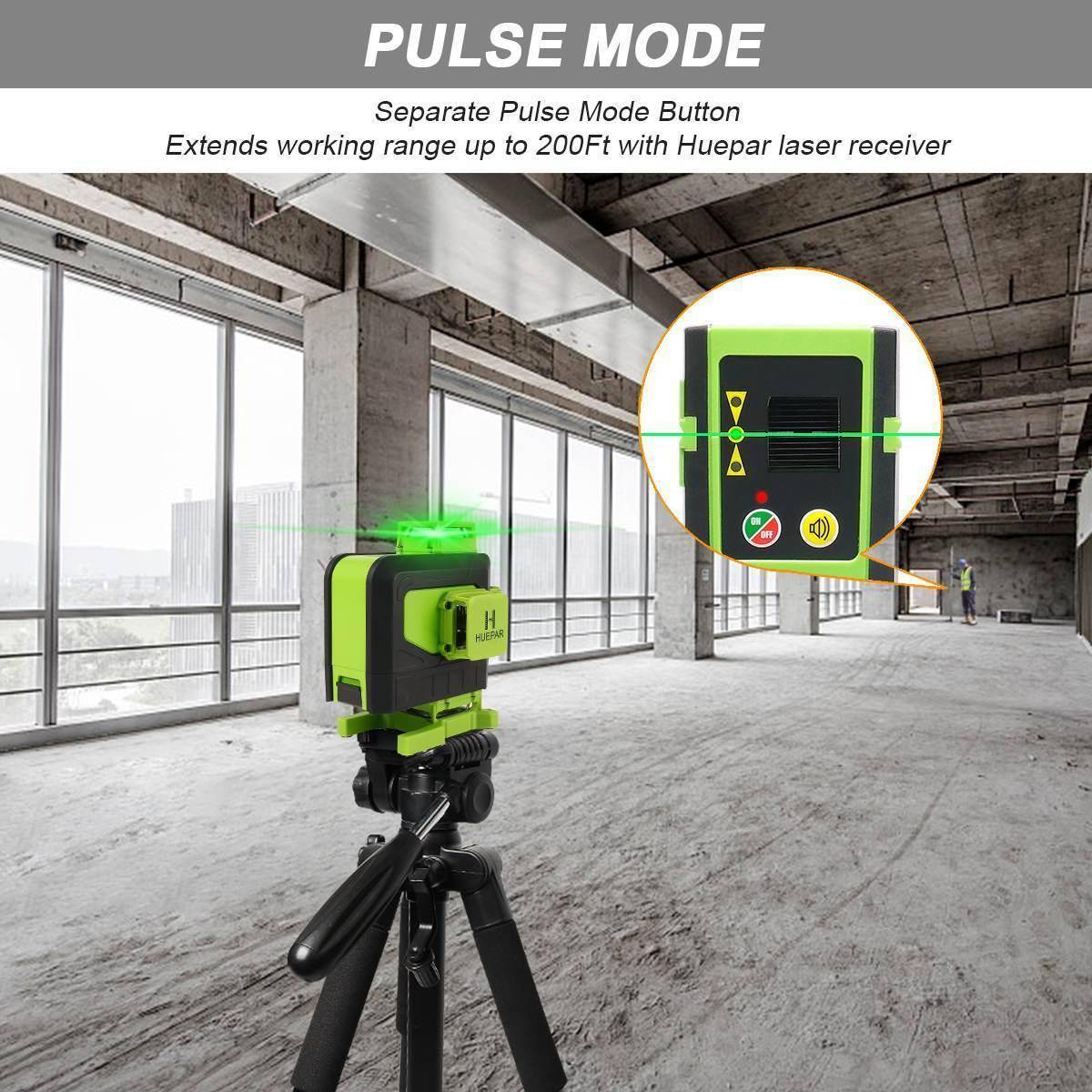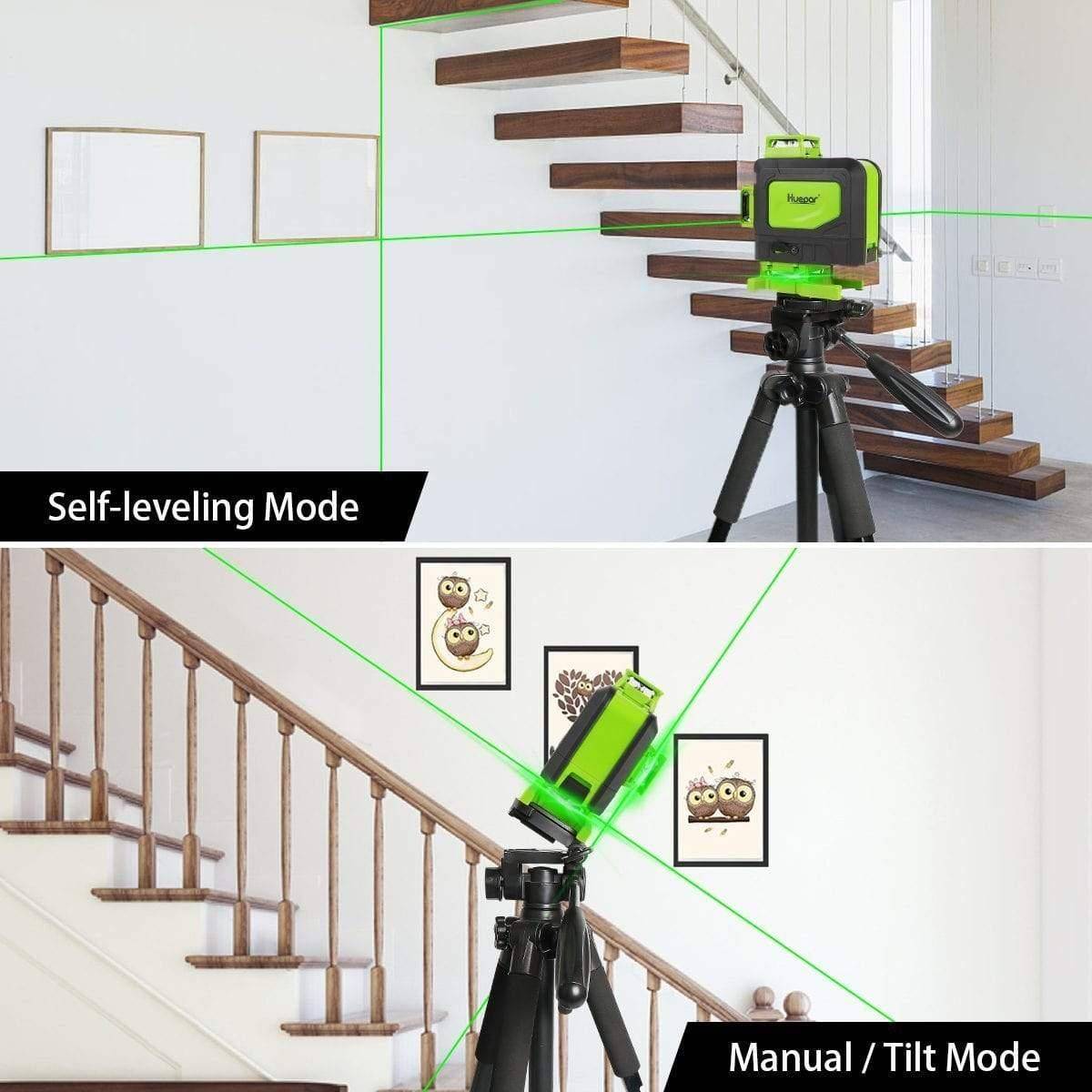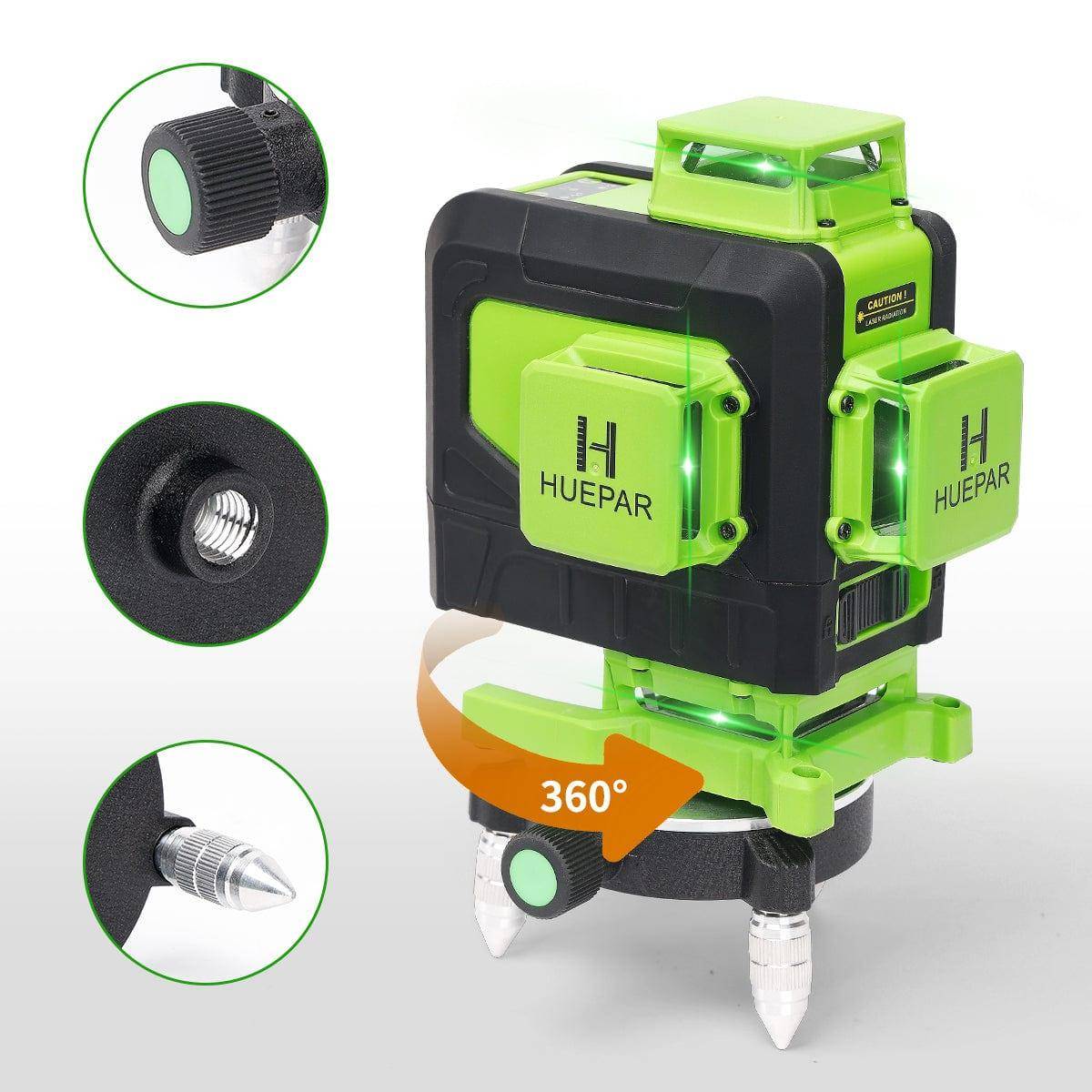 Huepar 904DG - 4x360° Green Cross Line Floor Laser Tool with Remote Control & magnetic Bracket
Sale price
£219.99
Regular price
£219.99
Tax included.
⏱ Buy Now and Save Extra £60 Off丨Code: SAVE60
Free Shipping & ETA:Oct 07 - Oct 11

24 Months Official Warranty: Easy Returns & Exchanges
Pay with Ease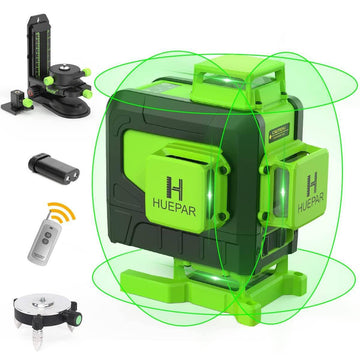 Huepar 904DG - 4x360° Green Cross Line Floor Laser Tool with Remote Control & magnetic Bracket
Description
Package List
2-Year Warranty
Shipping & Delivery
Payment
Great Support

Self-leveling mode&Manual mode
Self-leveling mode:
Once the pendulum unlocked, the self-leveling mode is enabled. The laser beam will beep as well as the laser beam blink fast when the tool is out of self-leveling range ±4°.
Manual mode:
When the pendulum is in the locked position, the laser tool can be placed for use at any angle.

The laser beam will blink every 3-5 seconds to remind you it's not self-leveling now.
LONG WORKING TIME
Huepar 904DG Laser Level employed a large capacity of 3.7V / 5200mAh Li-ion Battery and provides up to 6-12 hours of running time. The Li-ion Battery comes with a Type-C charging port that can be charged separately. When taking out the battery, this 4D laser level can be used at the job site by plugged in directly. The 16 lines laser level can also be charged by laptop, power bank, car charger, etc.
Easy to Work with the Remote Control
Short press H and V button on the keypad to switch the Horizontal and Vertical laser lines separately.
The remote control enables to select 4x360° laser lines individually at a distance up to 33Ft.
In manual mode, when all laser lines are switched off while the indicators are still on.
Strong Magnetic Bracket
Huepar Laser Level Fine-tuning Bracket with four fine adjustment knobs on the bracket, helps to adjust the left and right position within 1.2 inch(3cm), the front and back position within 2.2 inch(5.5cm), the height within 3.6 inch(9cm), and the horizontal rotation 360°. The graduations are marked in inches and centimeters for easy readings. A dedicated adapter included helps to hang the laser tool, enabling the laser window closer to the wall for working.
Pulse Mode
At self-leveling mode, long press the button V to switch ON/OFF the pulse mode.
Pulse mode extends the working range up to 200Ft in brighter working conditions when using with Huepar Line Laser Receiver.
This 16 lines laser tool is compatible with Huepar LR-6RG / LR-5RG Laser Detector only.
Note: Keep the pulse mode on when using with a receiver.
4 X 360°Laser Lines & Lines Switching
This laser tool provides four 360 planes of laser light. The top 360° horizontal line can be used for ceiling installation. The 360° floor horizontal line is for tiling installation.
Two 360° vertical lines cross at 90°angles that makes user quickly visualize and finish square layout.
Short press the "H" and "V" buttons on the keypad to switch the Horizontal and Vertical laser lines separately.
Metal Micro-Adjusting Base
Equipped with a metal micro-adjust fine turning pivoting base, and the micro rotary knob enables users to make 360°adjustment.
Users can adjust the height by rotate the three legs of the adapter even on a tilt surface.The 5/8" threaded mount makes it possible to be attached to a tripod or other tool for use.
Wide Applications
Huepar 4x360°Green Laser Level 904DG provides an all-in-one level and alignment solution for one-person job setup.
This 360° cross line laser tool is ideal for paving floor tiles, installing ceilings, door, window, or furniture carpentry, hanging wallpaper, etc.
Laser tools can help you work effectively in home decoration, wall building, bridge construction, engineering construction, railway construction, etc.
1 x Huepar 904DG
1 x Rechargeable Li-ion Battery
1 x Remote control
1 x Fine-tuning Bracket
1 x Steel Sheet
1 x Micro-adjust base
1 x Multilingual User Manual
1 x Carrying Bag
1 x Type-C Power Cord
All official website orders will automatically receive a free 2-year membership warranty.
We insist on providing customers with high-quality products and promise to provide customers with 24-month worry-free after-sales service.
The time frame of an order delivery is divided into two parts:
Processing time: 1-2 working days
Shipping time: 2-5 working days
We offer free shipping on orders of $99 or more. If your order does not qualify for free shipping, the shipping fee will be shown on the address-filing page once the order is settled.
We accept the following forms of payment:
1. Credit Card (Visa, MasterCard, American Express, Discover)
2. Debit Card (Visa, MasterCard, Discover)
3. Paypal
4. Paypal Credit
5. Apple Pay
6. Google Pay
7. Shop Pay
8. Affirm Financing (excluding West Virginia and Iowa)
9. Bank Transfer
PREMIUM SERVICE, SUPERIOR QUALITY
24/7 Premium service team
Equipped with factory-trained experts, Huepar's consumer service team strives to find the right solution for your needs – from advice to sales and repair & maintenance services.
You can enjoy efficient support from Huepar- we promise to respond in 24hrs and solve the problem in 48hrs.

Lifetime Customer Support
All Huepar products come with lifetime customer support - no worries about exceeding the service period.
All product defects, such as accuracy malfunction, battery and charger damage and requests for replacement parts will be dealt with on time, every time.

Note: Please contact our customer care using online chat service at https://huepar.com/support or email"support@huepar.com"if there is any problem with your payment.
Which is the Best for You?
Specification comparison between products Huepar 904DG - 4x360° Green Cross Line Floor Laser Tool with Remote Control & magnetic Bracket, Huepar S04CG - 16 Lines Self-Leveling LCD Screen Laser Level, Huepar P04CG - 4x360° Laser Level Self Leveling 4D Green Beam Bluetooth Connectivity Laser Tool, Huepar LS04CG - Self-leveling 4x360 Green Cross Line Floor Laser Tool

| | | | | |
| --- | --- | --- | --- | --- |
| | | | | |
| Product SKU | 904DG | S04CG | P04CG | LS04CG |
| Product type | 4D Laser Levels | 4D Laser Levels | 4D Laser Levels | 4D Laser Levels |
| Number of Lines | | | | |
| Laser Lines | | | | |
| Laser Beam Supplier | | | | |
| Laser Beam Color | | | | |
| Laser Wavelength | | | | |
| Line Accuracy | | | | |
| Leveling / Compensation Range | | | | |
| Max Self-leveling Time (Seconds) | | | | |
| Extra features | — | | — | — |
| Bluetooth Connectivity | | | | |
| Remote Control | | | | |
| Dot Accuracy | | | — | |
| Line Switching | | | | |
| Pulse Laser Receiver Mode | | | | |
| Working Range (60-100 LUX) | | | | |
| Working Range with Detector | | | | |
| AA Battery | | | | |
| Li-ion Battery | | | | |
| Working Time (Hours) | | | | |
| Charging Time (Hours) | | | | |
| Mount Size | | | | |
| Durable Design | | | | |
| Hard Carry Case | | | | |
904DG
Only complaint is its not packaged in a hard case
All good
Very happy with my purchase,was looking for long to buy it.
Huepar 904DG?
Very good quality and affordable.
Excellent bit of kit
Not used in anger yet but looks as if I will be using it a lot
Haven't used it on job yet, but I do see after playing around at home with it, it's many possibilities to help me with jobs. I do have a dewalt laser, but this is much better, especially the fixed beam for stair work or wall panelling. Pivot and twin beams help. Love it. ..feels good quality.
WARNING:
Do not point the laser beam directly into the eyes.
The device is a laser class 2 laser product according to IEC / EN60825-1 / 2014. It is allowed to use the device without any further safety precautions.
The eye protection is usually secured by aversion reactions and blink reflex.
Huepar Laser Level has undergone laboratory benchmark testing to ensure that the working temperature range of the product is: -10℃ ~ 50℃ / 14℉ ~ 122℉; the recommended temperature for product storage is: -20℃ ~ 70℃ / -4℉ ~ 158℉.