SPECIFICATIONS
24-MONTH WARRANTY
FREE SHIPPING
PAYMENT
REVIEWS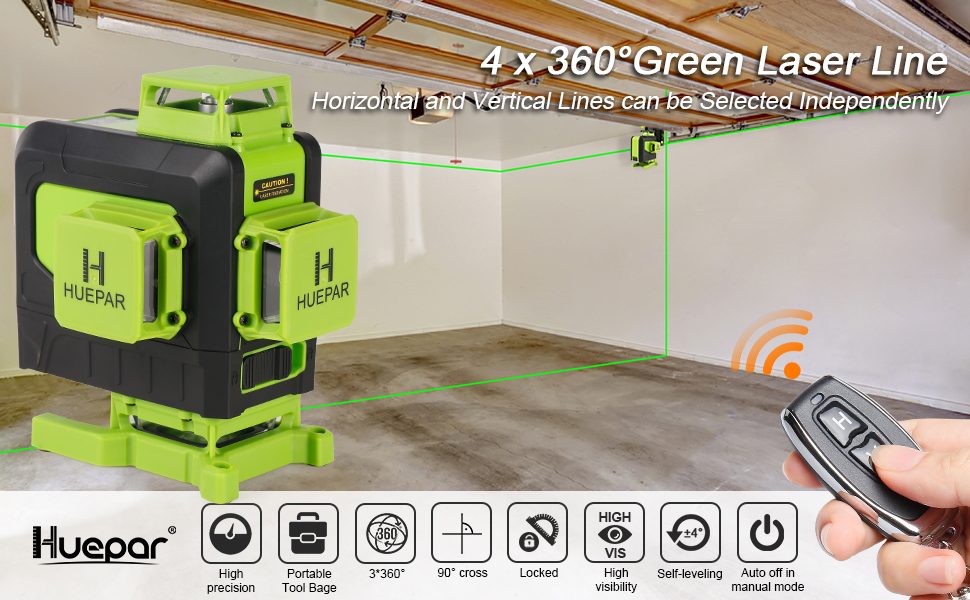 Huepar 904DG 16 Lines 4D Green Laser Level Specifications:
Laser Beam: Green Beam
Projection: 16 Green Laser Lines 
Laser Class: Class 2 (IEC/EN60825-1/2014), <1mW power output
Laser Wavelength: Osram 520nm
Horizontal / Vertical Accuracy: ±3mm/10m;±1/9 In. at 33 Ft.
Leveling / Compensation Range: 4°±1°
Leveling Time: ≤3s
Working Distance: 40m, ≥50m with detector 132 Ft, ≥165 Ft with detector
Operating Time & Power Source: 8 hours with built-in Li-ion battery 3.7V / 1500mAh
Mount Size: 1/4"-20
IP Rating: IP54, waterproof, dustproof and shockproof, reliability and robustness
Operating Temperature: Between -10℃ and +50℃
Storage temperature: Between -20℃ and +70℃
WARNING:
Do not point the laser beam directly into the eyes.
Package Contents:
1 x Green Laser Level 904DG
1 x Wall Hanging Plate
1 x Magnetic Pivoting Base
1 x Remote Control
1 x Power Adapter
1 x Lithium Battery
1x  Rotating base
1x User Manual
1x Soft Bag
Line Switching
Short press H and V button on the keypad to switch the Horizontal and Vertical laser lines separately.
The laser lines can be selected separately according to job requirements.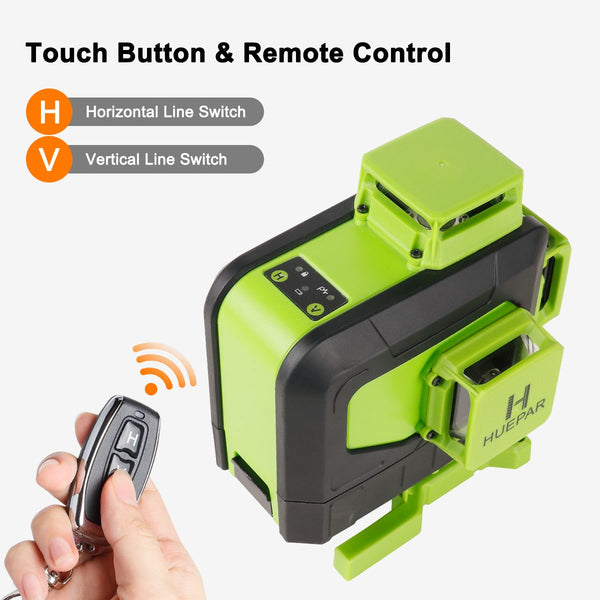 With Remote control
The remote control enables to select three 360° laser lines individually at a distance up to 33Ft.
The laser line(s) can be temporarily turned OFF by the remote control when you need to leave for a while.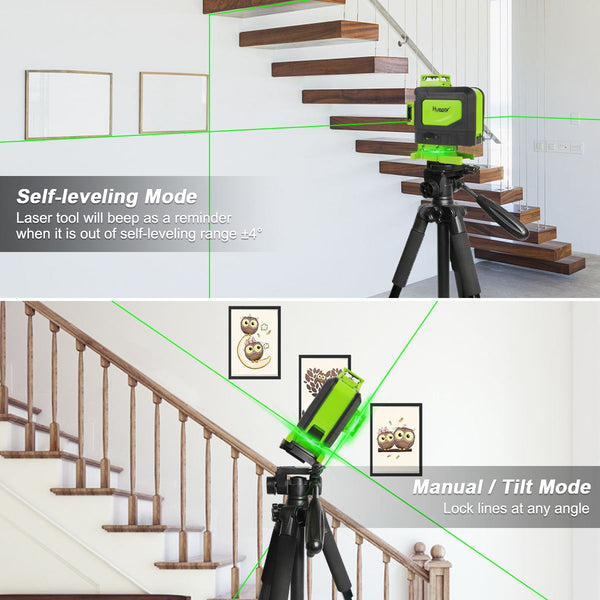 SELF-LEVELING MODE & MANUAL MODE

Self-leveling mode:
Once the pendulum unlocked, self-leveling mode is enabled.
The laser beam will beep as well as the laser beam blink fast when the tool is out of self-leveling range ±4°.
Manual mode:
When the pendulum locked, the laser tool can be placed for use at any angle.
The laser beam will blink every 3-5 seconds to remind you it's not self-leveling now.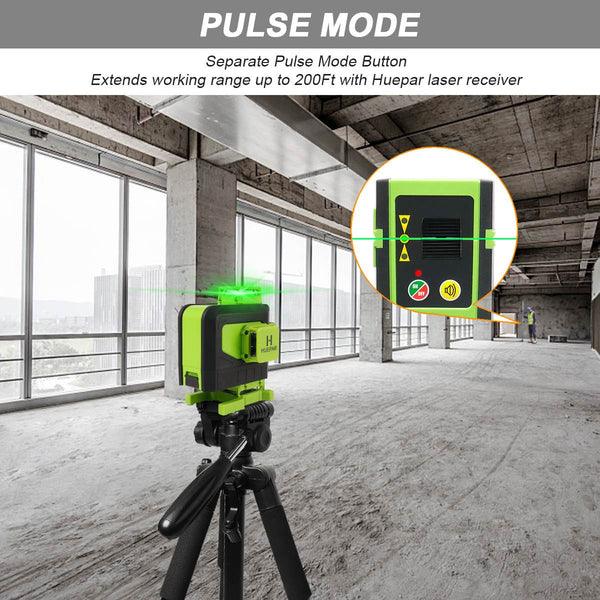 Pulse Mode
Turn ON pulse mode: After power on & switch the pendulum to unlocked position, short press the V button to turn on the pulse mode. The indicator will light up in blue.
Pulse mode extends the working range up to 200Ft. in brighter working conditions when using with Huepar Line Laser Receiver.
Keep the pulse mode on when using with a receiver.
It is compatible with Huepar LR-6RG&LR-5RG Line Laser Receiver only.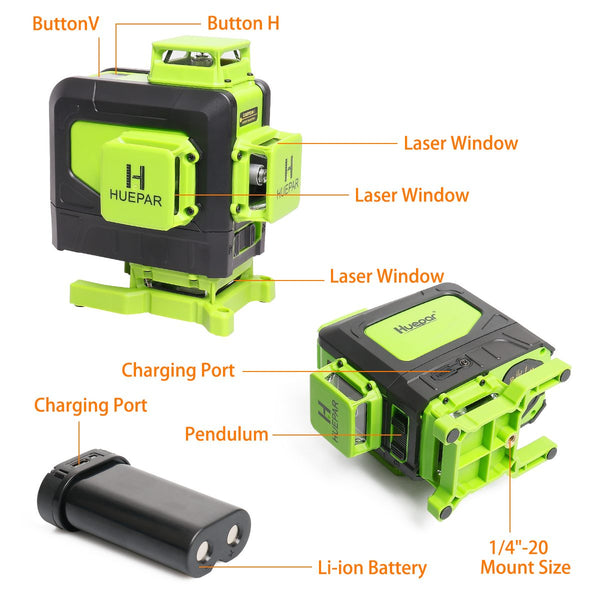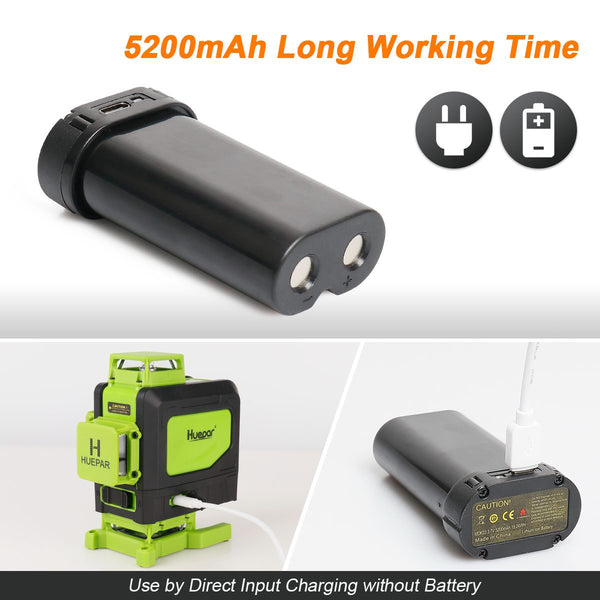 DIVERSE POWER SUPPLY
Large-capacity li-ion battery: 6 hours of extra-long working & Can be charged with type-c port.
Bare battery charging: with type-c port.
Direct input charging: This laser tool can be used at job site with direct input charging even if take out the battery.
Charging protection help prevent the tool from overcharge.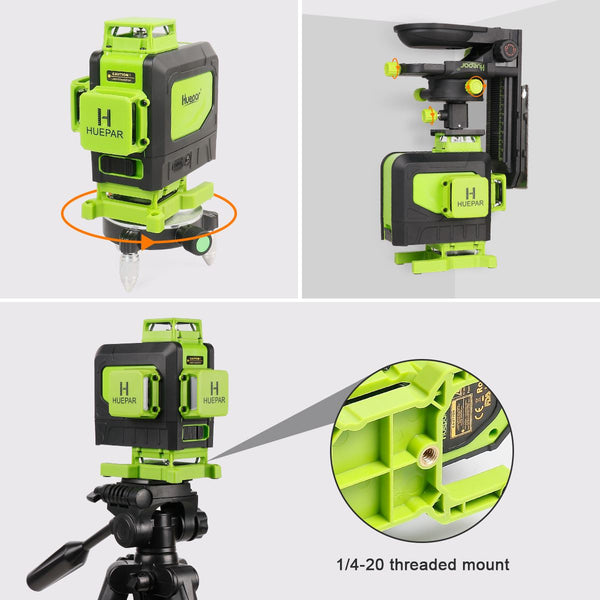 EASY TO USE
1. 360° Strong Magnetic Pivoting Base: Allows for attachment to metal track and steel,supporting you to turn the laser level around at 360 degree , projecting lines at any angle.
2. Mount Size: 1/4"-20 mounting threads for temporarily fastening in place or being fixed on tripod.
We are confident of the quality of our products and offer 24 month Warranty( only for official website orders)
The time frame of an order delivery is divided into two parts:
Processing time: 1 working days
Shipping time: 2-3 working days
Ordering laser level on Huepar.com is safe and convenient. We are pleased to offer different ways to pay your bill so as to make your life easier.
Our secure online store accepts payments by:
Pay With PayPal

PayPal is secure and efficient way for shopping online. It store your credict card and billing information in your PayPal account, thereby eliminating the need to enter your info again and agin in different stores. If you select PayPal as your method of payment on the payment page, you will be taken to PayPal website to input the transaction financial details. Once you confirm your payment in PayPal, you will be redirected back to Huepar.com.
Pay With Credit Card
We accept payment from these 3 credit cards: Visa, MasterCard and Maestro.
We can accept credit cards as a payment method.
When you choose to pay by credit card, the page will go to oceanpaymeny to check out which can protect your card and personal privacy. 


How to pay with a credit card:
1) Select your shipping address or create a new one;
2) Enter your card details and click "Submit";
3) Your payment will be processed and a receipt will be sent to your e-mail address.


Huepar won't collect any of your card information when you shop with us. If you transaction fails, please contact your bank for details.
Each customer payment includes the following content: product and freight.
There is Tax-free from uk.huepar.com
You are responsible for all import taxes and duties that may be charged when your parcel passes through Customs. Many countries do not charge import duties on private items below a certain stated value. However, you may find that you have to pay taxes when goods you have ordered from us arrive in your country.

We advise you to find out about the local regulations prior to ordering from us. Can not give you advice or information about tax rates and customs charges in your country.


For more information about payment, please contact customer@huepar.com.